Talking to the Wall
The Story of an American Bargain
A Film by Steve Alves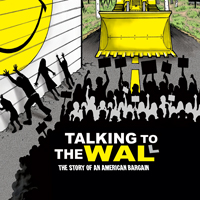 Talking to the Wall follows two towns over a period of seven years that make opposite decisions on whether to allow Wal-Mart in.  For those who care about Main Street, land use, and the vitality of community life, the results are clearly documented and undeniable.  Made by an award-winning filmmaker, who participated in his town's battle against Wal-Mart, this multi-award winning theatrically released movie has helped numerous citizens' groups throughout the U.S. learn how to organize and defeat Goliath. Personal and incisive, it penetrates the issue of big box development with humor and depth unlike any other film.  Order now and receive free movie poster.
Read The New York Times story.
Visit the film's website.
"A mightily personal account of citizen activism…Power to the People"
— John Boonstra, The Valley Advocate
"You may never feel the same about shopping at Wal-Mart."
— Mark Berger,  Winston-Salem Journal